There Stands Ever Cherished, NC State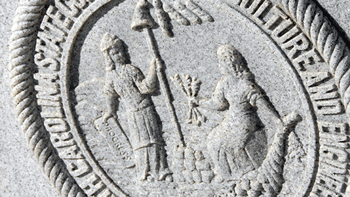 The idea for a monument to honor NC State alumni killed in World War I originated with Vance Sykes, a member of the class of 1907.
By 1920, Sykes and other alumni had formed a planning committee and hired architect William Henry Deacy to design a memorial tower at the entrance to the campus on Hillsborough Street.
Today, the 115-foot monument, called "a legend in stone," is a symbol of the university and a rallying point for the campus community. Constructed at a cost of more than $150,000, the tower is made of 1,400 tons of granite set on a 700-ton concrete base. Its blending of Romanesque features and Gothic verticality are reminiscent of the towers at West Point.
The history of the Belltower mirrors the turbulence of the 20th century. Work commenced quickly after the cornerstone was laid in 1921 with 10 foot sections added in 1924, 1925 and 1926. But construction was halted for extended periods during the Great Depression and again during World War II.
The stonework was finished in 1937 thanks to the federal Works Progress Administration. Student honor societies and the class of 1938 donated the clock, and the class of 1939 purchased a set of floodlights.
Finishing touches, including the chimes, shrine room and memorial plaque were completed in the late 1940s and a formal dedication was held on Nov. 11, 1949.
Although 34 alumni died in the war, the memorial plaque contains 35 names. George L. Jeffers, class of 1913, was wrongly reported killed in action and his name was included by mistake.
When the error was discovered, the university decided to alter the extra name beyond recognition. It was therefore changed to George E. Jefferson, a symbol of unknown soldiers from NC State and elsewhere.