Rankings and Facts
We're a top public research university that produces career-ready graduates, attracts leading researchers and supports the state and national economies.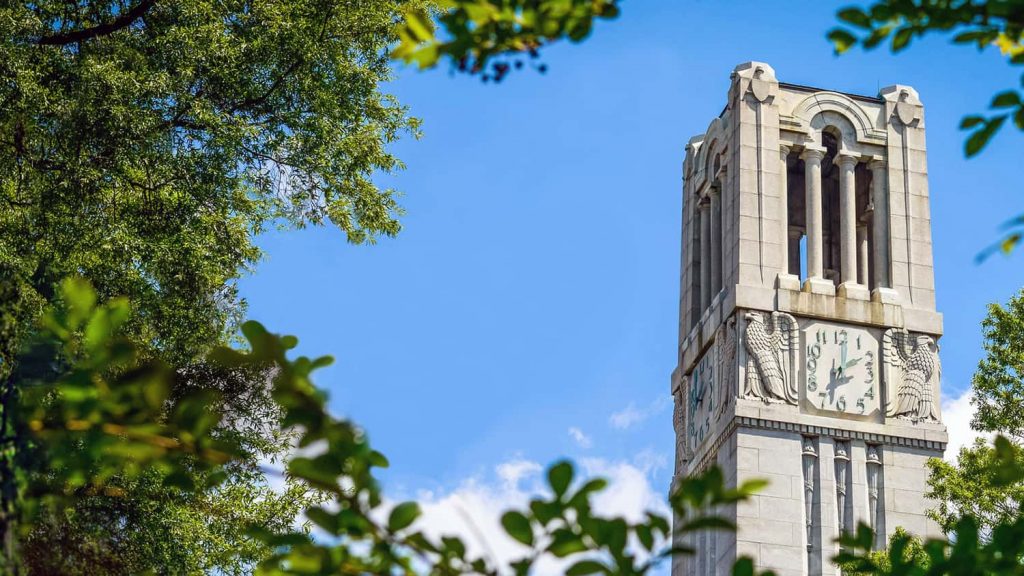 Essential Facts
We think and do — and the world takes notice.
As a Research I university, NC State is a key part of the Research Triangle region, which is home to industry leaders such as NC State partners SAS, Cisco, IBM, GlaxoSmithKline and Lenovo.
Raleigh and the surrounding area are consistently rated among the best places to live and work in the United States, and NC State is a driving force for the local, state and national economies.
37,500+ students, 2,400+ faculty and 6,900+ staff
Educating more North Carolinians than any other university
Student-faculty ratio 15:1
12 colleges representing all major academic fields
More than 300 undergraduate and graduate degree programs offered through 68 departments
NC State Extension serves citizens in all 100 counties and the Eastern Band of Cherokee Indians
$1.95 billion endowment, among the top 90 largest higher-education endowments in the country
$1.841 billion budget for fiscal year 2022
#2 Best Public College in
North Carolina for Value
Money
Rankings
Top 1% of universities worldwide (Center for World University Rankings)
#2 best public college in North Carolina for value (Money)
#2 for graduate entrepreneurship in the South (Princeton Review)
#4 for undergraduate entrepreneurship in the South (Princeton Review)
#4 veterinary medicine program nationally (U.S. News & World Report)
#6 best value among public universities nationally (U.S. News & World Report)
#7 online graduate engineering program nationally (U.S. News & World Report)
#8 in MBA programs with the best return on investment (Poets & Quants)
Top ten military-friendly school among tier 1 research institutions (Military Friendly)
#11 graduate statistics program nationally (U.S. News & World Report)
#13 graduate engineering program among public universities (U.S. News & World Report)
#17 online MBA nationally (Princeton Review)
#4 College of Veterinary Medicine in the Nation
U.S. News & World Report
Student and Faculty Success
More than 100 of our students were national scholars and fellows over the past five years.

NC State students won two Goldwater Scholarships and 21 National Science Foundation graduate research fellowships in the 2021-2022 academic year.
The Chancellor's Faculty Excellence Program groups world-leading educators and researchers into 20 interdisciplinary clusters, including bioinformatics, precision medicine and public science.
Twenty-five of our faculty are members of the National Academies.
#8 MBA Program for Return on Investment
Poets & Quants
Partnerships and Research
$409 million in sponsored research awards for fiscal year 2022
#4 in the nation for the share of our research sponsored by private industry, according to the Information Technology and Innovation Foundation
Lead university for two National Science Foundation Engineering Research Centers:
The first North American location for an IBM Quantum Hub, a collaborative effort to advance quantum computing
Home to two major interdisciplinary National Science Foundation-funded centers launched in 2021:
A hub for driving 5G innovation through the $24 million Aerial Experimentation and Research Platform for Advanced Wireless (AERPAW) project
A partner in seven of the 16 public-private institutes that make up Manufacturing USA, a federal initiative to revitalize the U.S. manufacturing industry
Home to the Southeast Climate Adaptation Science Center, one of eight such centers in the United States
$409M in New Sponsored Research in FY22
Office of Research and Innovation
Centennial Campus
NC State's Centennial Campus is a nationally acclaimed public-private research campus where 70+ corporate, government and nonprofit partners work alongside 70+ research and academic units
Home to the College of Engineering, the Wilson College of Textiles, the College of Veterinary Medicine and the Institute for Emerging Issues, a think tank focused on tackling big issues that affect North Carolina's prosperity
Supporting lifelong learning through K-12, graduate and continuing education, distance and online learning, and executive education
Houses the Office of Research and Innovation, which supports the university's research and commercialization mission
James B. Hunt Jr. Library: Winner of the prestigious Stanford Prize for Innovation in Research Libraries, and one of the most technologically advanced learning and collaboration spaces in the world
Offers a wealth of dining options, housing and amenities, most of which are available to the public
#2 for Research Commercialization
among public universities in the U.S., according to Heartland Forward
Economic Impact
190+ startups and spinoffs based on NC State research, attracting a total of $1.7 billion in venture capital
#1 nationwide for active licenses and options; #2 nationwide for startups launched among universities without a medical school
1,500+ patents issued in the U.S., yielding 600+ consumer products
The Wolfpack Investor Network (WIN) matches NC State alumni investors with promising university-affiliated startups to facilitate mentoring, support and angel investments for entrepreneurial businesses. WIN members have invested more than $13 million in 23 NC State startups.
The Milken Institute, an economic think tank, cited the collaboration and innovation fostered by NC State — and particularly by Centennial Campus — as key reasons why Raleigh is one of the best-performing large cities in the United States.
NC State and its students, alumni and associated startups generate $6.5 billion of North Carolina income annually.
190+ Startups and Spinoffs
Office of Research and Innovation
Alumni
NC State has more than 250,000 living alumni, approximately 160,000 of whom live in North Carolina.
The NC State Alumni Association has more than 23,000 dues-paying members, including about 3,000 members of the Student Alumni Association.
Wolfpack alumni stay in touch via more than 50 regional networks around the United States.
#6 Best Value Among U.S. Public Universities
U.S. News & World Report
Philanthropy and Giving
Supporters contributed $235 million in new gifts and pledges to NC State in FY20.
Alumnus Frederick Eugene Wilson Jr. and the Wilson family gave the transformational gift of $28 million to name the Wilson College of Textiles in perpetuity.
Alumni Edward P. Fitts Jr. and Edgar S. Woolard jointly gave a $25 million gift allowing the university to break ground on Fitts-Woolard Hall, which will house programs and facilities of the College of Engineering.
An extraordinary gift from Bill and Frances Henry funded the restoration and completion of the Memorial Belltower, including the installation of 55 bells.
A group of generous supporters of NC State athletics made a $5 million pledge to name the James T. Valvano Arena in Reynolds Coliseum.
The Think and Do the Extraordinary Campaign — the most ambitious fundraising effort in NC State's history — surpassed its $1.6 billion goal two years early, raising a total of $2.1 billion by the campaign's end in 2021.
Donors created some 2,100 new funds and 636 new scholarships and fellowships through the campaign.
Of the 234 endowed faculty positions at NC State, 104 were created during the campaign.
$235M in Private Support in FY20
Recent Accolades
Four NC State students — physics and mathematics graduate Mia de los Reyes, chemical engineering and economics graduate Chris Cooper, physics and computer science graduate Ana Sofia Uzsoy and computer science and genetics graduate Nikhil Milind — have earned prestigious Churchill Scholarships for graduate study at elite universities in the United Kingdom. NC State was one of only two schools in the country with two scholars in the 2020-2021 academic year.
Seven faculty members from two NC State colleges were recognized as top young scholars by the National Science Foundation's Early-Career Development Program.

Fred Kish, M.C. Dean Distinguished Professor in the Department of Electrical and Computer Engineering, was named a fellow of the National Academy of Inventors.

Hollylynne Lee, professor of mathematics and statistics education in the NC State College of Education and senior faculty fellow at the Friday Institute for Educational Innovation, received one of the nation's top teaching awards, the Robert Foster Cherry Award for Great Teaching.
In 2022, eight NC State faculty members were elected as fellows of the American Association for the Advancement of Science.
The National Science Foundation awarded its prestigious Graduate Research Fellowship to 21 NC State students. The fellowship program recognizes outstanding graduate students in NSF-supported science, technology, engineering and mathematics disciplines.
In 2022, two NC State students won a Goldwater Scholarship, presented to outstanding undergraduates preparing for careers as mathematicians, scientists and engineers: mechanical engineering major Ashley Crickard and meteorology and applied mathematics major Caleb Keaveney.
Rankings