Krispy Kreme Challenge
Five miles. Twelve doughnuts. One hour. Discover the daring delight that's become one of Raleigh's fastest-growing traditions.
Trailglazers
Each year, runners brave the brisk winter weather to embark on a quest of guts, glory and glaze: the Krispy Kreme Challenge.
The student-run event dares participants to dash two and a half miles from the Belltower to the nearest Krispy Kreme, eat 12 doughnuts and then — with stomachs bursting — finish with another two-and-a-half-mile run back to their starting point. All in one hour.
What began as a weekend lark among Park Scholars has grown into a nationally recognized race, drawing in thousands of participants — and earning a spot on every NC State student's bucket list.
Your Challenge Awaits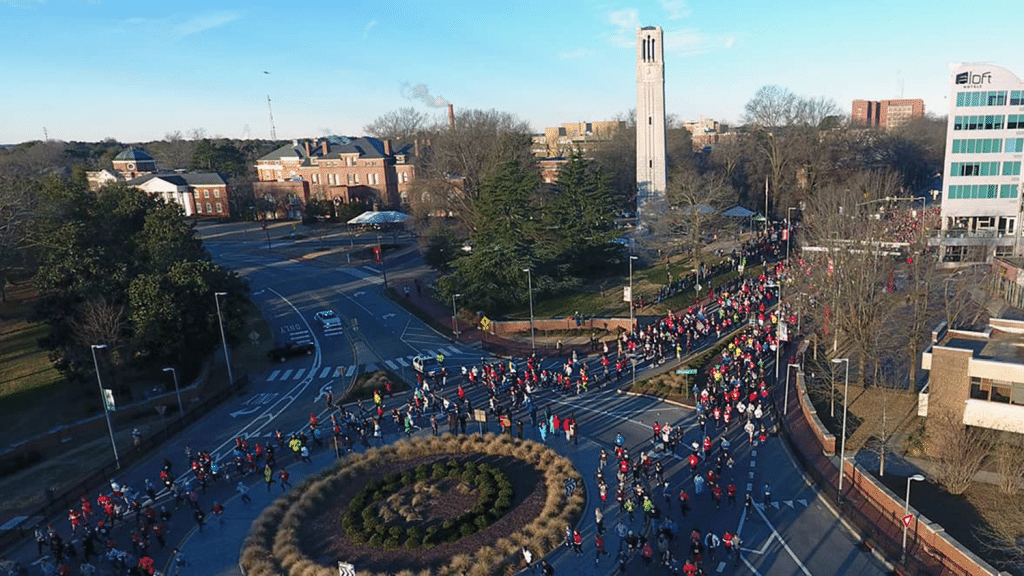 I couldn't be prouder to say that this was my stupid idea.

Chris Arbonies

B.A. psychology, 2007
A Reason To Run
This isn't just a show of gastrointestinal fortitude. The Krispy Kreme Challenge is an NC State tradition rooted in one of our most cherished values: philanthropy.
Since its inception in 2004, the challenge has raised more than $2 million for the University of North Carolina Children's Hospital, making this event the hospital's largest unrestricted donor.
Check out some sugary stats racked up over 19 years of the Krispy Kreme Challenge: