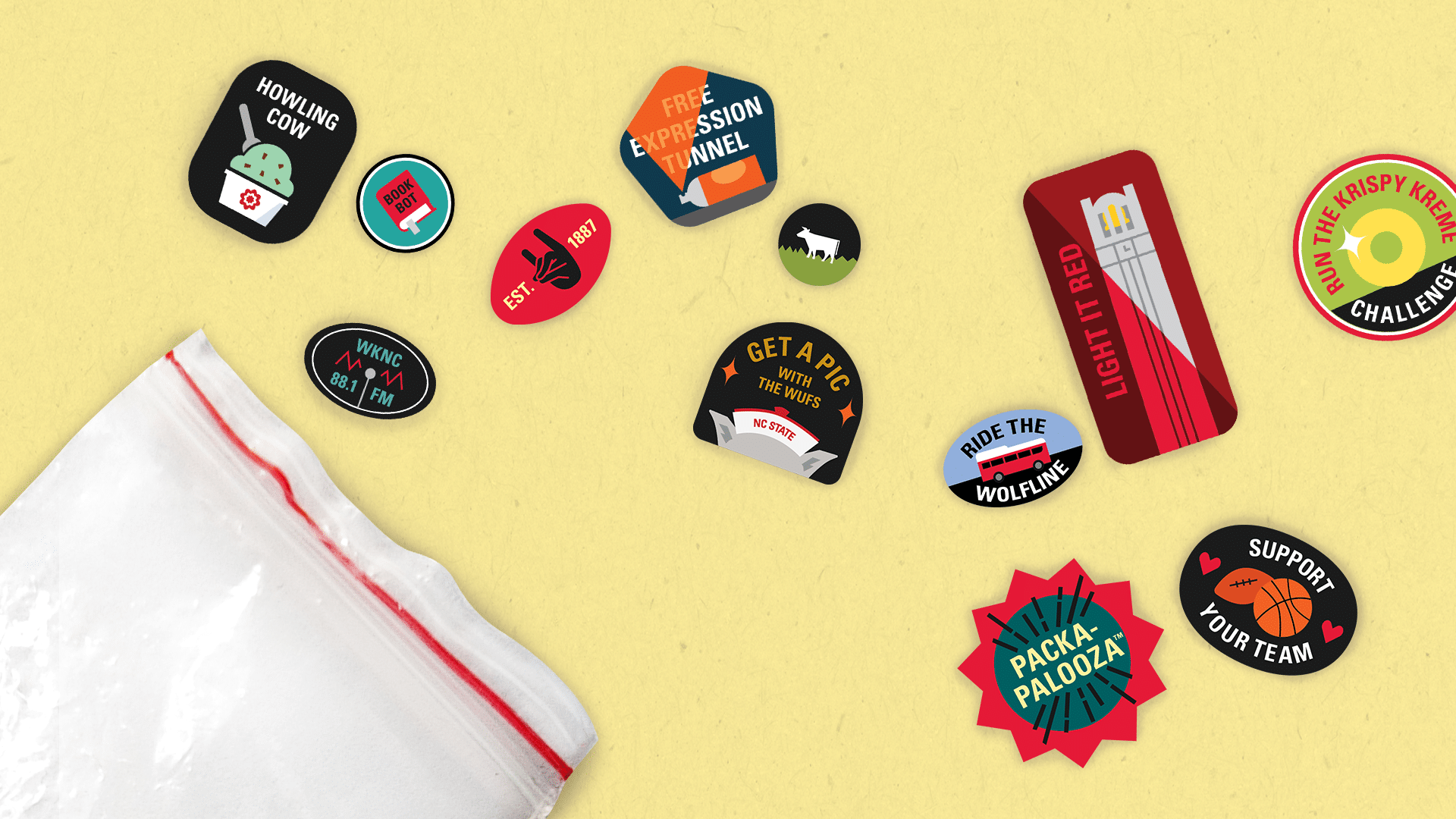 Your Bucket List
Make the most of your time as a student in our Wolfpack with help from the official NC State bucket list.
How many of these 30 essential Wolfpack experiences can you check off before graduation?
There are endless things to explore as an NC State student — but certain shared campus experiences bond our Wolfpack across generations.
This bucket list is your roadmap to all of the activities, events and spaces that make NC State uniquely NC State. Adventure across campus, meet your community and quest to complete as many of the 30 items as you can. We're rooting for you.
Attend New Student Convocation
It's basically NC State 101. New Student Convocation is the first time our incoming class comes together as one. You'll get an introduction to your university home, hear from community leaders and sing your alma mater alongside your new Wolfpack.
Snag a free NC State T-shirt
Red is definitely your color.
Watch the fireworks at Packapalooza
Cap off the festivities of Wolfpack Welcome Week with Packapalooza™, NC State's all-day block party and street festival. It's been a fan-favorite event for over a decade, and you'll want to stay for the grand finale: a live concert and dazzling firework display over the Memorial Belltower.
Join a student organization (or start your own)
We've got more than 600 of them. Choose from beekeeping, bluegrass, biochemistry or nearly anything else.
Eat at all of the campus dining halls
Hungry like the wolf? We've got options. Sample every dining hall our campus has to offer.
Read Technician and Nubian Message to stay up on campus news
Stay informed with two media outlets run by students, for students: NC State's weekly newspaper and online news source, Technician, and biweekly Black student newspaper, Nubian Message.
Go to an event hosted by one of the campus community centers
We've got four right on campus, ready to serve our student body: the African American Cultural Center, the LGBTQ Pride Center, Multicultural Student Affairs and the Women's Center.
Paint the Free Expression Tunnel
It's your cavernous canvas. The Free Expression Tunnel, an underpass connecting north and central campuses, was designated a graffiti-friendly zone in the late 1960s. You can tag the tunnel's walls with everything from upcoming student events to birthday wishes to art and activism.
Support all of NC State's varsity athletics teams
Our student-athletes compete at the highest level, and our fans cheer hard. Root for the Red and White at the sporting event of your choice.

Learn the NC State songs
These lyrics will come in handy on game day.
Fight Song
Shout aloud to the men,
Who will play the game to win.
We're behind you,
Keep fighting for State.
Hold that line,
Hold them fast,
We will reach victory at last
We're behind you
Keep fighting for State.
Rise up to the fray,
And let your colors wave,
Shout out for dear old NC State
(Go State!)
For where e'er we go,
We will let the whole world know,
We're behind you,
Keep fighting for State.
Red and White Song
We're the Red and White from State
And we know we are the best.
A hand behind our back,
We can take on all the rest.
Come over the hill, Caroline.
Devils and Deacs stand in line.
The Red and White from N.C. State.
Go State!
Alma Mater
Where the Southern winds so softly blow
O'er the fields of Caroline,
There stands ever cherished, N.C. State,
As thy honored shrine
So lift your voices! Loudly sing,
From hill to ocean side!
Our hearts ever hold you, N.C. State —
In the folds
Of our love and pride.
Go to your professor's office hours
Their doors are open. Stop by for some academic help or to delve deeper into the subjects that drive you.
Whisper in the Wolf Ears
It's only fitting that one of our iconic campus landmarks shows physics in action. Grab a friend and head near the Brickyard to check out our Wolf Ears. The two structures are situated many yards apart, but your messages will travel from one "ear" to the other, loud and clear.
Show your Pack spirit at a Red and White Week event
Join in our annual homecoming extravaganza, Red and White Week. Each fall, we invite students, faculty, staff, alumni and friends to celebrate NC State and all the people who make it special. You'll have a roster of unmissable events to choose from, all week long.
Take your picture with Mr. and Ms. Wuf
Find NC State's favorite couple — they'll be at most major campus events — and snap a photo together. (Get your wolfies ready. 🤘)
Listen to WKNC 88.1 FM
NC State's student-run radio station is sure to spin hidden gem tracks you've never heard before.
Run the Krispy Kreme Challenge
Kick off spring semester with a tradition you doughnut want to miss: the Krispy Kreme Challenge. Dash 2.5 miles from the Belltower to the nearest Krispy Kreme, eat a dozen doughnuts, then finish with another 2.5-mile run back to your starting point — all in one hour.
Participate in Shack-A-Thon
Each spring, NC State students raise awareness of the issue of affordable housing by building and living in shacks in the heart of NC State's campus. Get involved to help raise funds for Habitat for Humanity.
Take a class at the Wellness and Recreation Center
Our Wellness and Recreation Center has thousands of square feet of recreation, fitness and wellness space to explore, and it's one of many ways we promote wellness at NC State.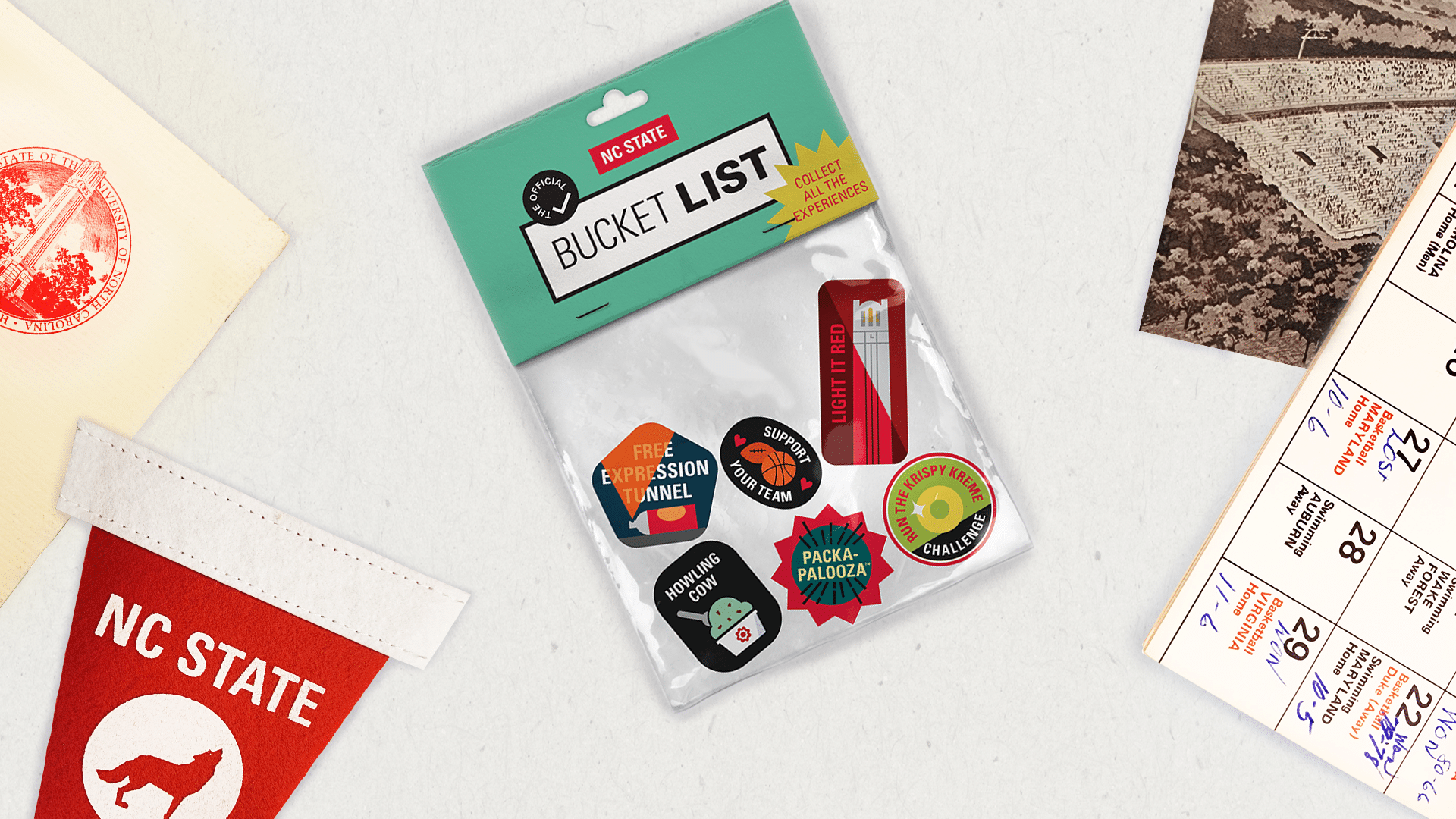 Ride the Wolfline around campus
The Wolfline is NC State's bus service, which serves all three campuses and surrounding areas. It's free to students — no university ID, pass or fare required. (Just make sure to thank the bus driver on your way off.)
Pet a cow during Ag Awareness Week
Students from the College of Agriculture and Life Sciences bring a barnyard to campus during Ag Awareness Week, a celebration of North Carolina's agricultural industry held each spring.
Volunteer with Service Raleigh
Give back during an annual citywide day of service. Connect with volunteers in your community to tackle various projects that provide much-needed assistance to local organizations.
Eat a scoop of Howling Cow ice cream
Any flavor will do. One benefit of going to a university with deep agricultural roots? Our very own farm fresh ice cream, made daily right on campus. We sling scoops in Talley Student Union and the Howling Cow Dairy Education Center and Creamery — meet you there.
Support a business on Hillsborough Street
Head to our community's favorite thoroughfare for a coffee break, a good meal or some shopping.
Meet the chancellor
Our chancellor, Randy Woodson, serves as the leader of our university home. Keep an eye out for him on campus and say hello. (Until then, you can watch his video interview series, Red Chair Chats.)
See the Belltower lit red
That's how we celebrate our proudest athletic and academic achievements.
Use the bookBot in Hunt Library
The bookBot is a robotic book delivery system that can store up to 2 million books in one-ninth the space of conventional shelving. Visit the first floor of Hunt Library on Centennial Campus to see it in action.
Vote in the Student Government elections
Make your voice heard by casting a ballot in a student government election, held twice annually in the fall and spring.
Visit all of NC State's Hallowed Places
A handful of NC State landmarks have earned an honored distinction of "Hallowed Places." Adventure to each of them, from Lake Raleigh to the Court of North Carolina to the pastures of the College of Veterinary Medicine and beyond.
Order a class ring and let it sleep in the Belltower
It's an emblem to show the world you're Red and White for life. Take part in our ring ceremony, where your class ring will spend a night in the Memorial Belltower's shrine room to soak up some extra Wolfpack spirit before being presented to you.
Turn your tassel at graduation
Attend commencement to celebrate your achievements alongside your graduating class. You'll move your tassel from the right side of your cap to the left to signify that you're entering your next chapter. (Hello, new alum! 🐺)
Start Your Own Bucket List